Dear Neighbor:
If you are investigating corporate leasing as an option for your condo or home in New Orleans, we hope we can help you with the best solution for maximizing your income on your property and ensuring a good experience as a host property for our corporate leasing program.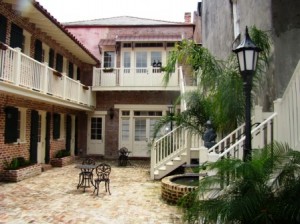 You have probably heard that New Orleans is rife with opportunities to lease to visitors who work within the movie industry – it's definitely booming here in "Hollywood South;" but did you know that film professionals are just about 20% of our corporate rental market? New Orleans has an endless need for luxurious, temporary housing, and our guests come from many different sources. Some of them are:
1. Medical personnel coming into town as Travel Nurses, Contract Doctors, medical students and administrators. The medical community is growing every day in downtown New Orleans, and upscale housing is usually included in the travel packages provided to their personnel.
2. Oil companies, shipping companies, engineering firms… all aspects of the oil industry bring in experts for many reasons. Most of them will not be relocating; they will be here for 3 to 6 months, sometimes longer, on a particular assignment, and their company will usually pay a housing allowance during their stay.
3. Military personnel. With military bases nearby, New Orleans can offer alternate housing for officers and staff, with a daily travel allowance that is generous enough to allow a stay in a comfortable condo or apartment, while still saving money over a hotel stay.
4. Contract workers. New Orleans attracts many different contracts; including engineers for levee building, FEMA claims managers, expert witnesses for trials, and the list goes on…
5.  Business Extended Stay Housing:  Many local businesses bring in temporary managers, executives, and project coordinators for a stay of a few months to a year or more.  These visitors can better enjoy the city as a guest in a private home or condo, and can usually justify the expense to their company as costing less than an extended stay hotel.  These are wonderful guests to have, and are usually provided a housing allowance by the company.
Corporate leasing is a great solution for these visitors, allowing flexibility of lease terms, eliminating the need to furnish an apartment, connect utilities, purchase housewares, and make an expensive commitment to a property for a stay of just a few months. Most have a per diem allowance, and a corporate condo that includes all these things is actually less expensive for them than a decent hotel, and provides all the amenities these clients require (i.e. wireless internet, a gym, pool, assigned parking, security, etc).
For you, as an owner of such a property, the advantages are even greater. You probably purchased your condo as a second home, or perhaps you once lived there, moved away, and decided to keep it – as an investment property… Many owners are not sure if they should remove their personal belongings, try to rent it themselves, hire a realtor, learn how to screen visitors, or put it on the market for sale?
We can be a headache-free solution, allowing you to pursue your life while we take care of your home, maximizing your income and making sure you get the right guests… whether you want to sell it, keep it, or continue to enjoy it during certain times of the year.
We can even assist you with a monthly maintenance program, designed with special pricing for our owners.
If you're interested in keeping your condo, yet want to have a revenue stream during times you're not using it – our program is ideal for you. You can keep all of your comforts in place, perhaps removing just some sentimental items, and you'll provide a great haven for a visitor, move-in ready, while still having all your comforts in place when you visit. Our clients come to us through referral, word of mouth, repeat visitors, or our well-established website – all of which are honed to ensure that the guests we attract are respectful, mature and responsible tenants who will care for your property like their own.
If you're thinking of selling your condo, we can create an income stream for you while it's on the market – letting you relax and take your time accepting the right offer. Think about it – there is a whole industry built around "staging" properties for sale. Yours already looks great, outfitted with your own furnishings and decor… so before you remove it all and put it on the market, let's create a plan for corporate leasing while we advertise it for sale. An occupied property looks better, is kept cleaner, repairs are brought to our attention quickly, and when investors are shopping, it looks great to be able to show lease records that prove it's a great income property. We've consistently sold our listings at a higher price-per-square foot than the comps because of simultaneous corporate leasing.   For more information on listing your condo for sale, visit our brokerage website at www.nolasinc.com
Whatever your situation, if you have a home or condo in downtown New Orleans, we can probably help you rent it out, and our program will maximize the income you can earn on your property. Call us today for a free consultation. We accept a few new properties each month, and we'd love to preview yours.
Anne Beck
504-812-4702