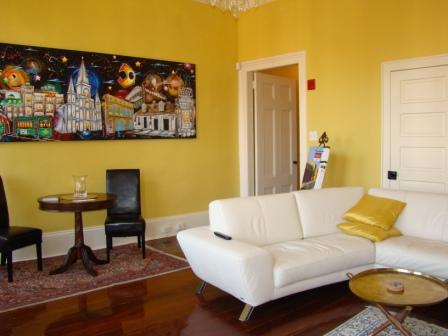 Be in the heart of the city's historic district; walk to any of the first class restaurants that call the French Quarter their home. Shop Royal Street for those treasures you can only find in New Orleans. Be a part of the nightlife that is the French Quarter experience, lose yourself in the music. Don't miss this opportunity to be a part of history, a part of the French Quarter.
This apartment is a part of a 150 year old brick townhouse that has all of the charm of days past. On the ground level there is a hidden courtyard behind an iron gate and down a narrow passageway that you would only find in the French Quarter, this space is shared with the other three occupants of the building
After you ascend a flight of stairs you enter the apartment into the French style kitchen. Your eyes are drawn to the antique lighting fixture, an authentic butcher block and a baker's rack. Of course the kitchen has granite counter tops and all of the modern conveniences that we in America are accustom to.
As you walk down the hallway, with its wide plank floors, and 15 foot ceilings you come across the bedroom. As you enter the bedroom you get a feel of old world elegance  the room is light with a Swarovski crystal chandelier, a king size pillow top bed complete with its 800 count sheets will give you the warm feeling of a bedroom that you will never want to leave. The room has adequate closet space an 8 foot dresser and a 40" flat screen television. The room has an in suite bathroom that is decorated in a French quarter style with an antique mirrored vanity, floral mirror and a candle chandelier.
At the end of the hallway you will enter the living room. Hanging from the ceiling medallion is another Swarovski crystal chandelier. The wide plank floors are accented with two Persian silk rugs that give a blend of modern furniture and old world charm. The Italian Natuzzi white leather sofa fills the living room without crowding it. On the walls are a collection of original oil paintings representing local artist, Reggie Ford, Andy Richards and Sarah Stiehl who will give you a feel of the French Quarter from an artist perspective. The room has a marble fireplace that was once the heat source; it is topped with a mirror that must have its origin in France. One entire wall of the room is adorned with three 10 foot French doors that lead onto a private balcony that will give you a view of St Louis Cathedral's spire. The balcony has two bistro tables and is a perfect setting for you to entertain your guests.
This apartment will give you a memorable experience into the lifestyles of the earlier generations that is only available in the French Quarter.
Minimum Lease 1 month
$4,200.00 with utilities included
No pets.
Call or text Anne Beck 504-812-4702